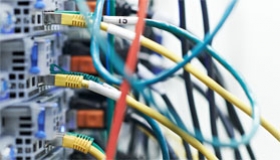 INTERCONNECTION DEVICES
Special VoIP Gateways ensure
the connection with other networks.
Interconnection devices ensure the interconnection in any combination of SIP, ISDN/DSS1. The gateways are available in several different capacities and ensure the interconnection in PSTN and other networks. The interconnections may be realized via SIP Trunks, directly IP to IP without any conversion to TDM.
FOR SIP/H323/ISDN/TDM INTER- CONNECTIONS IDB USES PRODUCTS FROM CISCO
SS7 Gateways
The products off the shelf are optimally integrated into the systems of IDB and meet highest requirements in quality and functionality. The gateways are available in designs with 1 to 4 E1, 3 to 24 E1 or STM-1 Interface with 768, 1440 or 2016 channels and may be operated in redundant clusters.
SIP Trunks
Before implementing interconnections with SIP trunks a careful check is required to determine which functions are supported by the SIP Trunk Provider. Especially a redundant link of a system and the inherent routing is not trivial. In most cases SIP trunks are used to connect different VoIP systems.
FIREWALL SYSTEMS
To protect its VoIP Systems, IDB offers a solution with ASA Firewalls from Cisco. These Firewalls are available in different performance classes and may be implemented in redundant (even geographical redundant) clusters.
Session Border Controllers transfer VoIP Calls from one IP network into another IP network
SESSION BORDER CONTROLLERS
The IDB VoIP Switch reliably supports various SBC functionalities. Dedicated SBC's are implemented to meet increased requirements. This kind of Session Border Controllers support the following functionalities:
Complete transfer of calls from one network to another network.
Firewall functionality, only predefined VoIP Calls will be permitted.
Protocol conversions, VoIP Calls are transferred from one protocol to another.
If dedicated SBC's are required IDB uses the Cisco Unified Border Element SBC's from Cisco.